Stampede Trail bus airlifted away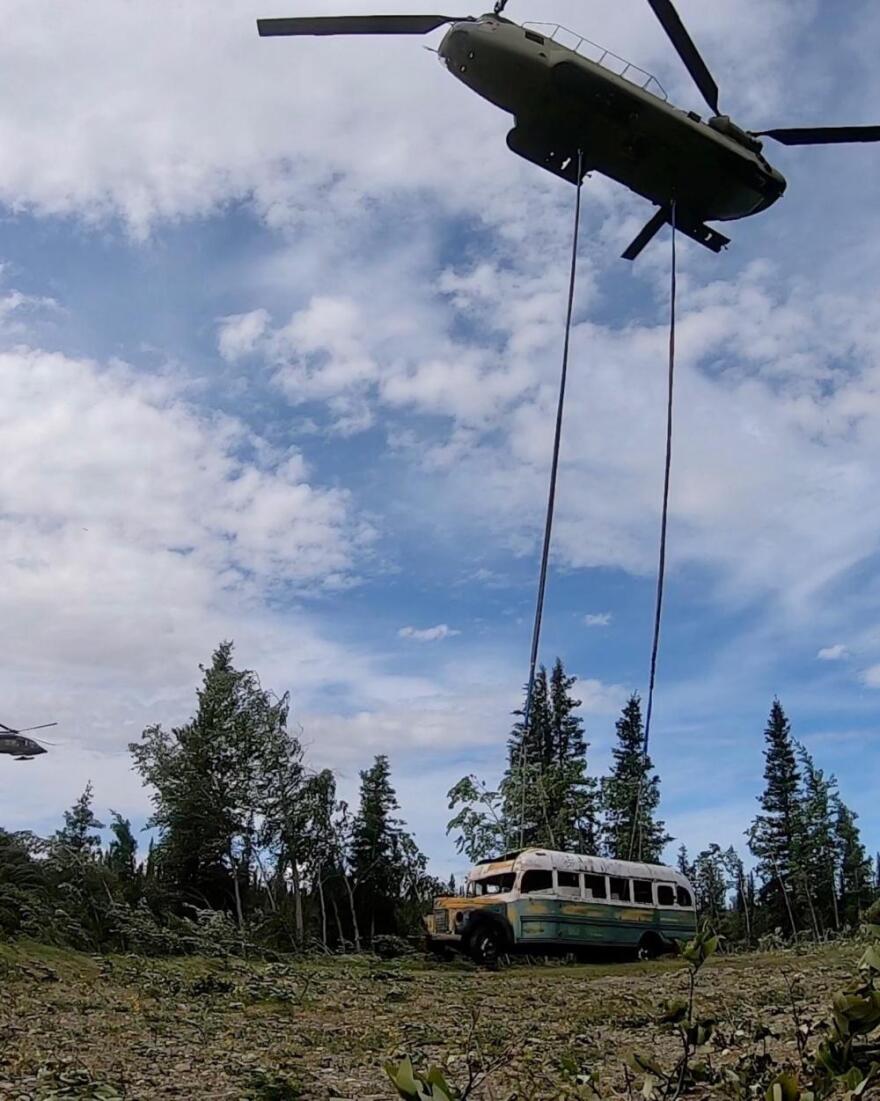 The abandoned bus where Christopher McCandless starved to death in 1992, has been removed from the wilderness north of Denali National Park. At the request of the state, the National Guard airlifted the bus yesterday, an effort aimed at reducing the number of people making the dangerous hike.
The 1950's era Fairbanks public transit bus was hoisted from where it long sat off the Stampede Trail, on the west side of the Teklanika River. National Guard spokesperson Candice Olmstead says a Chinook helicopter was used to lift the bus, providing a good training opportunity.
"We got the Chinooks less than two years ago, and for them to do this heavy-lift, sling-load operation worked out really well."
Olmstead says the bus had attracted hikers trying to reach the site where McCandless died, after his story was popularized by the 2007 movie version of Jon Krakauer's 1996 book: "Into the Wild".
"There were 15 state-generated search and rescue operations between 2009 and 2017, and as recently as this February, the Alaska State Troopers rescued 5 Italian hikers, one of whom suffered severe frostbite. Travelers from Switzerland and Belarus drowned in the Teklanika in 2010 and 2019."
State Department of Natural Resources spokesperson Dan Saddler says the DNR coordinated the bus removal operation with several departments and the National Guard, to address the problem.
"The bus is what you could term an 'attractive nuisance."
"We decided, with the help of the National Guard, we found a way to safely and economically remove the bus, so we can keep it safe and decide what to do with it long term."
The bus, which is in very deteriorated condition, has been temporarily put into storage at an undisclosed location. According to a state release, it may eventually be put on public display. Denali Borough Mayor Clay Walker emphasizes that removal of the bus will reduce the potential of more deaths, as well as dangerous and costly search and rescue operations, but...
"At the same time, The Bus is a notable part of our history here, it's been back to the early 60s, and of course, it is world-famous. Seeing it leave the Stampede Corridor, was honestly, a little bitter sweet."
Mayor Walker notes that the Denali Borough assembly approved a resolution in March, asking the state to remove the bus.
Link to National Guard photos and videos
Canadian journalist, Eva Holland out of Whitehorse, examined why so many attempt the dangerous river crossing to get to the derelict bus. (https://evaholland.atavist.com/chasingsupertramp)