Keys to Life "Meaning of Home" exhibit tells the story of Anchorage's homeless through the arts
What is the meaning of home? Keys to Life, an Anchorage non-profit, which works to promote arts, culture and diversity, put that question to those who know what it means be without a home.
Their answers came, not in words, but through music, poetry and art, which have been turned into an exhibit at Akela Space, a downtown Anchorage art gallery, asking the community to reflect on the meaning of home.
One of the artists, Mackenzie Johnson, or MJ as she likes to be called, composed a song called "Final Destination," which she recorded for the Keys to Life project. It tells the story of how she bounced from home to home, like the title of the song in search of a final destination.
MJ wanted to be interviewed for this story at the Guitar Center, a music store in Midtown.
"This is like my safe place. I guess when I'm not doing great," MJ said. "I'll come here, and I'll play, because there's like a bunch of guitars."
MJ picks out a high-end guitar, hanging from the wall in a big room, enclosed in wood, where the scent of cedar is the smell of home. She handles it carefully.
"I had never really had, like that one house I could go to, because things just happened," MJ said, "and I always wished for like a place I could just live and be happy and have a family."
Instead, she's learned to make do with a family of instruments. The guitar is in perfect tune. She strums a few bars of a song she's written, then moves on to a piano near the entrance of the store.
She plays a few bars of a New Age, jazzy progression, an original, she says. As her fingers slide over the keys, she explains how she taught herself to play by watching Youtube videos.
"The name of the song is 'Finding Joy in the Chaos," she explains, as the chords turn into rippling arpeggios that are slightly dissonant.
MJ says her life has been all about chaos, which began 18 years ago when her mother had to give her up at birth, due to addiction.
In her song, Final Destination, she talks about her adoption, which didn't work out.
Listen to "Final Destination," written and performed by MacKenzie Johnson
In her teens, she became a chronic runaway, with periods of confinement while under psychiatric care.
MJ finally found stability when she moved into a shelter for young people at Covenant House. She now has a job as a restaurant hostess, a new apartment and has just completed her certification as EMT.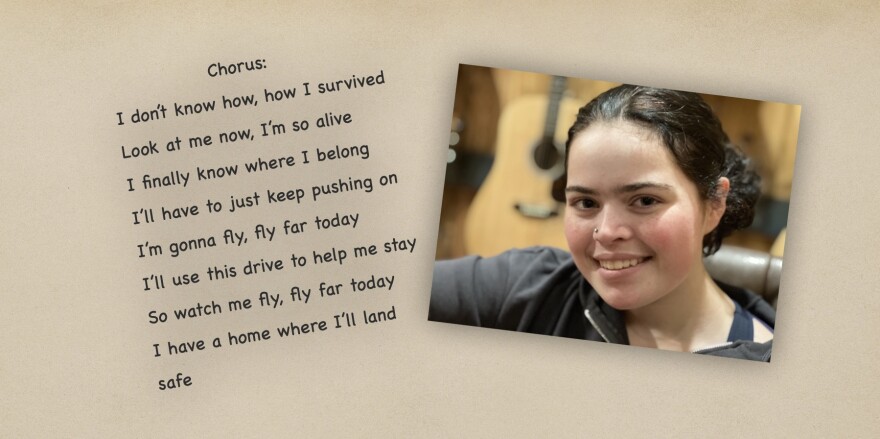 "Nobody would look at me today and be like, 'Oh, my gosh,' she was homeless," MJ said. "Nobody would guess that. They'd probably hear my song and be surprised."
"And yes, I am surprised," said Shirley Mae Springer Staten, one of the main architects for the Meaning of Home project. "And yes, I love every single piece."
And there are dozens of pieces on exhibit that took Springer-Staten months to collect --paintings, poems, songs and stories, a mosaic of what it means to be homeless, that all came together, just as the Sullivan Arena emptied its winter shelter into the streets of Anchorage.
"We look at the individuals with a certain lens, and we're not expecting beautiful art, or a beautiful song," Springer Staten said. "We are always hearing other people define what is homeless, but the people who are actually experiencing housing insecurity or homelessness, their voices are left out of the narrative."
Many of those in the project, including MJ, said home is not so much a physical place, but an emotional space, where you feel loved and wanted, which is a rare experience for those who couch surf or who live in tents at the edge of the woods.
Springer-Staten says MJ's story is typical of teens who wind up on the streets.
"They didn't feel wanted and had to find themselves and survive," said Springer Staten, who says MJ's story is inspiring. "She has not given up. She has just had so many fall backs, and then she gets up and tries it again."
MJ's song uses the metaphor of flying, at first to flee from trouble – and then, in the last verse, she spreads her wings and flies to the safety of home.
MJ says most people don't realize there are many faces of homelessness.
"If they see an old man, sitting on the side of the road, begging for food or asking for clothing, like to them, that's what homelessness is," she said. "I feel like in order to know what it is, you have to go through it."
And while MJ wouldn't wish that on anyone, she hopes her song, Final Destination, will give us a new appreciation for the meaning of home.
The Meaning of Home exhibit will remain at Akela Space through the end of the month. To make an appointment to see it, go to akelaspace.com. The exhibit will move to new locations sharing new stories through the arts.

June 17th, Covey Academy: Poetry Readings and Cupcakes
July 7th, Kaladi Brothers on Brayton
August 4th, Writers' Block: Panel Discussion and Music
September 1st, Brother Francis Navigation Shelter